OUR TEACHERS
Structured planning is what sets Dino Drop-In apart from other drop-in centers. You won't find screens and electronic toys entertaining children here, our preschool programs have been developed to inspire intrinsic motivation to learn and grow. Activities throughout the day have been carefully selected and timed to give the maximum learning opportunity to each child while respecting the shorter attention spans of the youngest in our community. A mixed age group class fosters a community feel and growth mindset in the younger children and empathy in the older children as they learn to navigate activities in an inclusive manner.
There are multiple opportunities in a day for circle time and group activities to inspire and share. Free play and gross motor skill development give plenty of time to burn off energy, build strength, independence, and resilience. Project time allows your child to develop their interests and explore creatively. At Dino Drop-in we have monthly themes to help guide children to learn about the world around them and encourage a lifelong love of learning. Choose Dino Drop-in for services that deliver more than just a helping hand.
All Dino Drop-In teachers are background checked, trained in CPR/1st Aide, and required to do continuing education each year.
Kim loves leading circle time with her singing and teaching talents! She is studying nursing and that caring nature shines bright at Dino. ✨ She loves photography and adventuring around her mountain home! 📷🏔 We love having her as a teacher at Dino Drop-In.
Czarina joined the Dino Drop-In team in 2018 and has developed amazing relationships with the kiddos that go here! They love dancing and playing with Czarina. We're lucky to have her smiling face and fun energy at Dino Drop-In! 
 Ms. Bridgette loves working with children because they bring so much joy into her life. Children also have the ability to change her perspective on things, and she loves that this helps keep her mind open.
Ms. Kylee started working at the Bozeman Dino Drop-In our first year and has grown with us ever since. She now co-owns our Kennewick and Richland, WA Locations. She opened her first location in June 2018 and is so busy we have opened a new larger location. Ms. Kylee has also helped expand and grow the Dino brand in new directions with Dino on the GO! In the TriCities area. She is an amazing teacher, manager, and entrepreneur. Children and parents alike LOVE Ms. Kylee, to the moon and back!
Miss Madi is no stranger to children as she has 10+ years experience working with kiddos of all ages and making a difference in each of their lives. She makes play come to life and is always thinking outside of the box. We are so lucky to have her as our lead teacher at our Richland location! Miss Madi is always looking for ways to make learning fun and exciting. She is a favorite for many of our little dinos (and parents). We can't wait to see Miss Madi continue to grow with Dino!
Miss Kori loves bringing the best out of each child and helping them express themselves. Her nephew already thought Dino was the BEST place and now that shes apart of the teachnig staff Dino is even better (and boy do we agree)! Miss Kori loves seeing the world from a child's eyes and watching the kiddos grow socially and emotionally. We are happy to have you apart of our Richland Dino team!
Miss Lauryn grew up in the Gallatin Valley and is studying elementary education and special education at MSU. She has a great time playing with all of our little Dinos and is always excited to add another kiddo to the fun.
"I love working at Dino because I have a huge passion for children and I love the benefits I get being with the children everyday. I like to think children are like books, they have so many pages to their developmental learning and I'm just eager to continue reading or watching them understand everything." Lauryn
 Ms. Sarah received her degree from MSU in Elementary Education. Sarah is a dance instructor and has managed other local businesses since moving to Bozeman. We are thrilled to have Sarah as our manager for the Bozeman Dino Drop-In Team.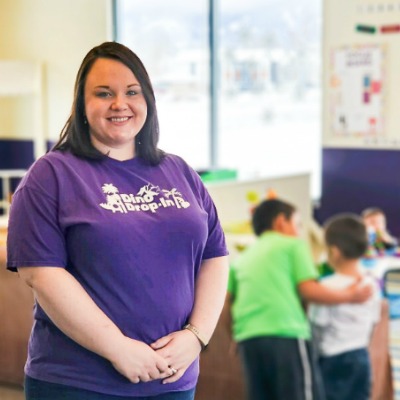 Ms. Britney has been a Dino Mom since before her son was born! She first helped Reach clients who worked at Dino and after her son was born we got to care for him. After a few months she was able to cut some hours and work part time teaching at Dino, too. We love having Britney as part of our team and her care for each child and family shows through!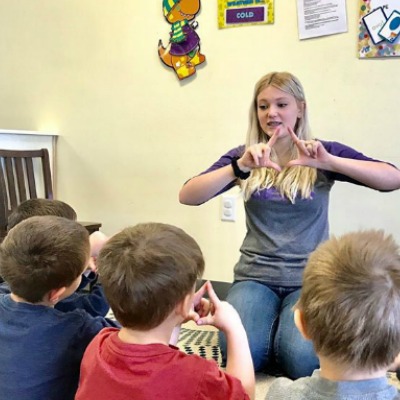 "It's so rewarding to come to work and help children learn, watching them laugh and grow. When I'm outside of work, I love to go on hikes and ride horses." – Ms. Kelsey
We love having Ms. Kelsey as a teacher in both Bozeman and Belgrade. She has so much fun with the kiddos during circle time and projects! Kelsey is also furthering her education through online classes in child development!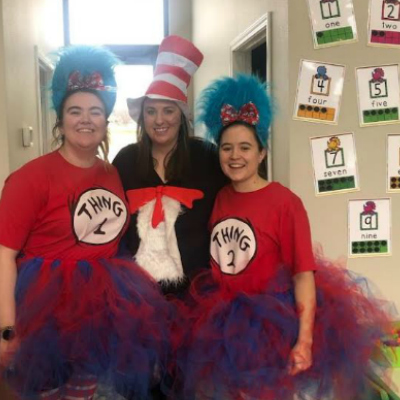 Miss Mackenzie has been part of the Dino team for over a year and definitely has made a positive impact in many kiddos lives. She's currently pursuing her education in early childhood education. Miss Mackenzie has a way about her that makes all kiddos feel at home the moment they enter our center! She ensures all children are laughing and having the best time while at Dino. We love having her hardworking, creative and loving personality as part of the Dino team!
Miss Alexis has a passion for early learning and enriching young minds through play and positive experience. Her years of experience shines through as she works with children on all different development levels ensuring they are successful in whatever they are doing. She loves seeing the kiddos faces light up as they conquer that "hard thing " or when they learn something new. We are so excited to have her part of our team!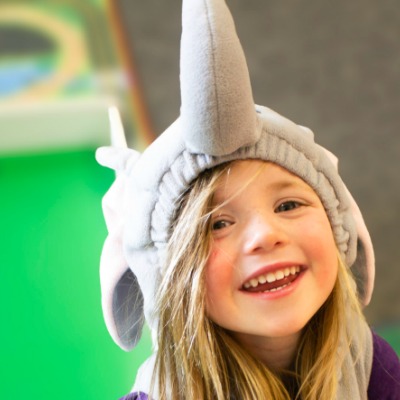 Lots of moms who start out bringing their kiddos to Dino see the fun we have and ask to join the team. This is how Ms. Alyssa found the Belgrade Dino Drop-In Team. Ms. Alyssa studied photography and is splitting her time between teaching and helping with graphics as our marketing intern. She is the mother of two energetic girls and brings great energy and drive to the Belgrade Team.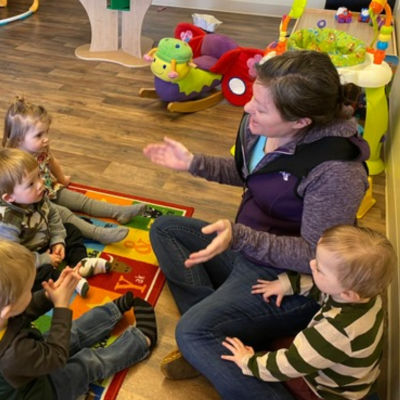 Ms. Alisa launched our Livingston Dino Drop-In after nearly 20 years of teaching early childhood education in a variety of settings. She received her degree in Early Childhood Education and knows the Montana Early Learning Standards inside and out. Kiddos love Ms. Alisa for her creative projects where she always covers counting, colors, and letter recognition while making art projects.